Your entertainment choice can make or break your private/corporate event.  Whether it is your company's holiday gathering or a private event at your home Fusion Jazz Trio is the band and can take on your entertainment needs.  Some of Fusion Jazz Trio's clients include Olympus Inc., Wilmington Trust Investment Company Inc., Merck, Allentown & Bethlehem Chambers of Commerce as well as many other.  If you want to make sure that you have the perfect live entertainment for your event contact Fusion Jazz Trio.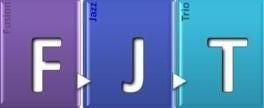 Looking for something a little bigger than the trio or perhaps your attendees want to dance the night away? No problem,  Fusion Jazz Trio and its musical associates would be more than happy to give you exactly what you have in mind.  A singer, sax or perhaps the best live dance music around.  No matter your desires Fusion Jazz Trio is the band for you.


For more information please contact 610-704-6053 or you can email fusionjazztrio@aol.com.