From the Morning Call
Saturday, May 18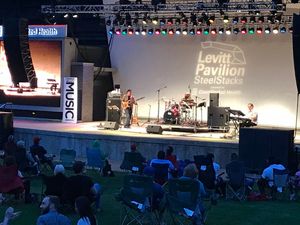 Over more than a decade, as the Fusion Jazz Trio quietly amassed the Lehigh Valley Music Awards' longest win streak with consecutive Best Jazz Band/Soloist honors, it was easy to discount it as a niche genre.
But the band's concert Friday, headlining the first night of the music awards' preview for the ninth season of Levitt Pavilion Steel Stacks in Bethlehem, showed just how telling that win streak is.
In an hour long show of 10 songs, Fusion Jazz Trio very much lived up to its name – performing fusion jazz and other forms of the genre in an entertaining display of talent.
The band was both incredibly tight and adventurous at the same time, and elevated its performance by seeming to enjoy the night as much as its surprisingly light audience of about 200 did (an earlier threat of rain and temperatures made cooler by a breeze might have played into that).
The band's set opened strong, with the surprisingly funk-heavy song "Odyssey" – the rhythm section of bassist Brian Bortz and drummer Vern Mobley setting a deep and rich base while keyboardist George Grund played high and airy above it.
Those also were the attributes of many of the set's most successful songs – Chick Corea's "500 Miles High" or the original song "Blue Skies' off the group's upcoming album.
But that hardly was the only style Fusion Jazz Trio did well. Other songs that were sharp and entertaining included far more classical jazz and even Caribbean-flavored music.
The title track from the band's CD "Out of the Shadows" was very piano-centric, light and moody jazz – giving Grund a chance to explore and the band mashed that up with the much more musically muscular "Jasmine" for a 10-minute mid-set excursion.
Bortz and Mobley also were given the chance to head off on excursions, as well, and Bortz did exceptionally well playing lead on his composition "Shelter House," which also featured a beautiful high keyboard hum over which Grund played twinkling notes.
Mobley's chance to shine was the closing song, another Chick Corea composition, "Spain," that stretched beyond 10 minutes with his solo turn.
By the end of the show, the temperature had dropped below 70 degrees, but it felt much warmer – and it was hard to tell whether that was the result of the wind dying down or how hot Fusion Jazz Trio was playing.
Either way, the band proved it was deserving of all those awards.
Opening the show was singer-songwriter Stacy Gabel, who in the past two years won four Lehigh Valley Music Awards, including both years' top Fans Choice Award.
Gabel, alone on guitar, performed a seven-song, half-hour set, starting with an appropriate and nicely done cover of The Beatles' "Here Comes the Sun" and Colbie Calliat's "Brighter Than the Sun."
Gabel, whose background is in musical theater, showed her more natural inclinations with a more sultry and dramatic performance of the song "Summertime" from the opera "Porgie and Bess."
That approach wasn't as successful on Sara Bareilles' "Brave." While Gabel's presentation was classically and technically strong, it lacked the bare emotion of the song.
Gabel's original offerings, "A Little Magic" and "Great Escape," were very much in her style, and the almost rapped, cascade-of-words segment was fun.
But her country-tinged new single, "Straight to Voicemail," which since being released less than three weeks has gotten more than 14,000 views on YouTube, might have been a bit too clever – though the full sound it got from its taped backing track gave Gabel a stronger sound.
The Lehigh Valley Music Awards Levitt season preview continues today, May 18, with a performance by area rock band Another Day Dawns. Opening the show will be singer Carolyn Marie, who won this year's Lehigh Valley Music Award for Discovered Artist.
The Levitt's ninth season of 51 shows officially starts with concerts by 1990s alternative rock groups Dishwalla on May 24 and Cracker on May 25.
REVIEW: Fusion Jazz Trio leads a funky jazz party in Allentown
Fusion Jazz Trio performed Friday night at Miller Symphony Hall.
Dave Howell: Special to The Morning Call
Fusion Jazz Trio has made a lot of fans in its 17 years, and many of them filled the Rodale Community Room of Miller Symphony Hall Friday night. The Jazz Upstairs show, led by drummer Vern Mobley, combined complex, intricate jazz with a good natured party atmosphere that even featured Mobley leading the audience in a group wave.
To begin, keyboardist George Grund led the stately. moving song "Total Praise," dedicated to the late Bishop Iris Smith of the Community Fellowship Cathedral of Allentown, where Mobley has been the organist for 24 years.
With Brian Bortz on bottom heavy five string bass, Grund on synth-like trippy keys and Mobley beating strong rhythms with cymbal flourishes, "Tu Tu" and "Gigabyte," were so funky, the upstairs room would have been shut down if funk was illegal.
Guest Joe Mixon did bright, rock flavored guitar work on "Before You Go" and breakneck riffs on the late period Miles Davis "Black Satin." Mobley announced a change of pace to end the first set with a rocking version of the "Sesame Street" theme.
 Bortz did a melodic solo on the Yellowjackets' "One Family" with his six string fretless bass, with a speed and dexterity that even few guitarists could match.
"Out of the Shadows" will be the title track for the live CD that will come from the recording of this show. Mobley explained it was named for his remarkable recoveries from cancer and a recent auto accident. Appropriately, it was an intense and spiritual tune.
Vocalist Chet Brown came on in a smooth, happy style with Al Jarreau's "Mornin'," Bill Withers' "Ain't No Sunshine," and "On Green Dolphin Street," using hand gestures and his whole body to enthusiastically communicate the songs.
Another surprise came at the end, as the trio shifted from Mobley's "Jasmine" into Michael Jackson's "Billie Jean" and "Shake Your Body."
There was a lot going on in Fusion Jazz's music, with involved chord changes and time signatures. It's not pop music, but it was totally accessible coming from the spirit and good times the musicians had onstage and with the audience.
Dave Howell is a freelance writer.
Twitter @goguidelv
610-820-6704
Fusion Jazz Trio mixes it up for live taping
Fusion Jazz Trio includes Brian Bortz (left), Vernon Mobley and George Grund. The group is recording a live album at Symphony Hall Friday with guests Joe Mixon, guitar, and Chet Brown, vocals. The event is part of the Jazz Upstairs series. (CONTRIBUTED PHOTO)
Dave Howell: Special to The Morning Call
The "fusion" in Fusion Jazz Trio can mean different things: the group's incorporation of different musical styles, its use of electric instruments and a drum kit expanded from the average jazz setup or its combination of the intricacy of jazz with the excitement of rock.
Decide for yourself Jan. 11 when Fusion Jazz Trio performs in the Jazz Upstairs Series at Miller Symphony Hall in Allentown.
The trio, which won its 10th consecutive Lehigh Valley Music Award in 2017, is decidedly jazz. Drummer Vern Mobley uses unusual time signatures, keyboardist George Grund takes elaborate melodic explorations and Brian Bortz plays supercharged lead as much as rhythm with his electric basses.
But for the songs, Mobley says, "It depends on your definition of jazz. We pick good music. We don't want to be limited to one genre."
He says, "My favorite movie of all time is 'The Muppet Movie.' It brings everyone to a happy place. We were playing 'Rainbow Connection' once and half the people in the restaurant got up and began to dance. It resonates with people."
Vern Mobley founded Fusion Jazz Trio in 2002. (HUB WILLSON /CONTRIBUTED PHOTO)
At a recent show at Easton's Lafayette Bar, the group played a jazzed-up version of "Frosty the Snowman" and the theme from "Sesame Street," along with "My Favorite Things," Weather Report's "Birdland," the funky "Pick Up the Pieces," and originals "Jasmine" and "Shelter House." They interacted with an appreciative audience, stretching out on the tunes while adding accomplished solos.
The group likely will play more of its own compositions on Jan. 11, the group's third visit to Symphony Hall. It will be Mosley's 10th appearance in the Jazz Upstairs series, including a Stevie Wonder tribute in 2017 with the Paul Kendall Quartet.
Like the other two Fusion Jazz Trio shows, this one will be recorded. Mobley plans to use it for a CD release to be called "Out of The Shadows." The title came from his miraculous recovery when he walked away from his overturned car about a month ago. "That accident should have killed me," he says.
Mobley says for a live recording, "There is more danger, but there is an opportunity for magic to happen." Their first Symphony Hall appearance generated the CD "Fusionistic."
The show will include guests Joe Mixon on guitar and Chet Brown on vocals. Bortz will be bringing his fretless six-string bass, a five-string and probably a four-string, along with many foot pedals. Grund will use a rack with a Hammond SK-1 keyboard and a Casio electric piano.
Mobley formed the Fusion Jazz Trio in 2002. Bortz has been a member since the first few years when he replaced Mobley's brother Warren, who found it difficult to commute from Philadelphia.
"The musical relationship is real obvious when the two of us play together," Mobley says. "People always say, 'We can tell you guys are having a great time up there.' " The group has had a few keyboardists. Grund has played with the group for about two years.
Bortz says the Fusion Jazz Trio is different because it was "built from the bottom up instead of the top down," meaning that it was formed around a rhythm section instead of a piano or saxophone. "The music is complex. There's a lot of stuff going on. But there's no single lead instrument."
Bortz won the Lehigh Valley Music Award for Bass Guitarist three times. He says he made a breakthrough in his playing after many years when he decided, "I'm not worrying about what people think of me. I stopped thinking about it." Among many other projects, he is in the Last Thursday Band, so called because it appears the last Thursday each month at the Hotel Bethlehem.
Grund, a native of the Lehigh Valley who moved back from Arizona, was the pianist for the Rob Stoneback Big Band 1993 to 2008. He has performed with the Coasters, the Drifters, Ben E. King, Lee Oskar, Lisa Simone and the Glenn Miller Orchestra.
Mobley has been the organist at Community Fellowship Cathedral of Allentown for 24 years. He has written many scores for plays and dance groups, and coaches women's basketball. Bortz, currently at Bethlehem Community Fellowship Church, has been playing in church bands for over 20 years.
"I've been given a gift to play and I want to share it with as many people as possible," Mobley says. "Music affects people like nothing else can."
---
DETAILS
Fusion Jazz Trio
What: Lehigh Valley group records a live album with guests Joe Mixon, guitar, and Chet Brown, vocals
When: 7:30 p.m. Friday
Where: Miller Symphony Hall, Rodale Room, 23 N. Sixth St., Allentown
How much: $30 adv.; $35 door, includes light fare
Info: 610-432-6715, millersymphonyhall.org
Twitter @goguidelv
610-820-6704
Fusion Trio recording CD at 'Jazz Upstairs' concert
The Fusion Jazz Trio Miller Symphony Hall concert, 7:30 p.m. Jan. 11, marks the second time the trio has recorded a CD in the Rodale Community Room "Jazz Upstairs" series.
The ensemble of Vernon Mobley, drums; Brian Bortz, bass, and George Grund, keyboards, are joined by Joe Mixon, guitar, and Chet Brown, vocals.
Fusion Jazz Trio recorded its first CD, "Fusionistic," at Miller Symphony Hall.
Says Mobley, "I love recording in the studio, but there's something special when there's a crowd there. It ups everyone's game. There's a little bit of danger, but always the possibility of some magic happening."
Mobley, who hails from Philadelphia, started the trio in 2002 with his brother Warren as primary bass player. Mobley was new to the Lehigh Valley jazz scene:
"I happened to meet Brian Bortz by chance at a church concert. We exchanged numbers and eventually I needed a bass player. He's now been with the trio close to 13 years."
Grund is also a long-time member of the trio.
Says Mobley, "I like the opportunity to play with the same guys. The more you play with a musician, the more you know about them and you can play with them in a very comfortable way. We have a lot of versatility. Brian and George always tend to say yes to my crazy musical ideas."
Mixon has taught at the college level for more than 30 years. He has performed in music genres, from classical, to blues with the The Blue Professors, to reggae with The Big Wahu Caribbean Band. Mixon also heads the Artisan Jazz Trio. Bortz is bassist with the trio, as well.
Bortz plays with Philadelphia-based James Gerard Orchestra, the Last Thursday Band at Hotel Bethlehem, The Lehigh Valley Soul Project, Key Largo ... The Band, and the Brian Bortz Jazz Group. Most weekends he can be found with Praise Team at New Covenant Christian Community Church, Bethlehem.
Grund received a BA in Music Theory from West Chester University. He served with the 399th and 3rd Infantry Division Army Bands. Grund has played with the Coasters, Drifters, Ben E. King, Lisa Simone, Buzz Jones Big Band, Glenn Miller Orchestra, and Rob Stoneback Big Band.
Brown has long been a part of the Philadelphia music scene. He plays with the James Gerard Orchestra and is on the staff of Lehigh Valley Charter High School for the Arts.
Of the "Jazz Upstairs" concert, Mobley says, "It will be a mix. Of course, we'll do 'Out of the Shadows,' the title track. There will be some original compositions and songs that aren't ours but that I think capture the personality of the musician who is featured.
"I want people to have an opportunity to experience these incredible musicians and their personalities, to understand a few things about these musicians. It's my honor to share a stage with them."
Concerning the trio's "fusion" moniker, Mobley says, "For me, the fusion part comes from the idea that many jazz musicians have a jazz background and dabble in other thing. That's not the case with any of the guys in this band. They are unique musicians with very different backgrounds, and we apply jazz principles to our songs.
"My background is gospel and R&B. George and Brian have different backgrounds. We wrap all this together.
"We'll take a song that people are familiar with, that's a good song, and apply our backgrounds in a jazz way.
"You'll have a different experience with that song. There may be some magic that happens in the song. I want to make sure my audience is always intrigued."
Tickets: Miller Symphony Hall box office, 23 N. Sixth St., Allentown; allentownsymphony.org; 610-432-6715